ACCA + MBA§
Gain an MBA with your ACCA
Take you career to a whole new level of success by matching your ACCA qualification with an MBA. The ACCA qualification is no longer available at Birmingham with FBT. It is however, offered in London via London School of Business & Finance (LSBF). ACCA is offered on-campus in London or online – powered by InterActive. The MBA is only available online via LSBF powered by InterActive
Combine your ACCA with an MBA in as few as 2 extra modules and a dissertation^
Adding a postgraduate degree to your qualification shows a unique ability to manage accounting and finance at a more strategic level. It will enhance your salary and career by showing employers around the world that you have the skills and confidence to lead in the financial world.
Combine your ACCA qualification with an MBA to increase your salary by up to 39%*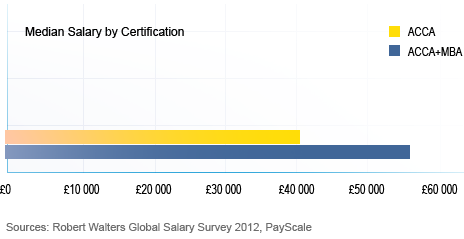 Key features and benefits:
Gain two qualifications that are recognised around the world
Match focused accounting skills with advanced business knowledge
Access HD recorded studio lectures online 24/7
Currently all ACCA on-campus courses are available in London campus, MBA and MA courses are only available to study online. For more information please call us on +44 (0) 207 823 2303 or e-mail us at: admissions@lsbf.org.uk.
Important Information, Terms & Conditions
§To complete the MBA/MA course students must pass 14 ACCA papers (i.e.: F1–P5). Students may be admitted onto the MBA/MA course prior to passing their final three ACCA Papers. SUBSEQUENT TO COMMENCING THE MBA/MA COURSE, SHOULD A STUDENT DISCOVER THAT SHE HAS FAILED ANY ACCA PAPERS, SHE WILL NOT BE ENTITLED TO A REFUND OF ANY AMOUNT PAID. FOR THE AVOIDANCE OF DOUBT, FAILURE OF ANY ACCA PAPERS WILL NOT ENTITLE THE STUDENT TO A REFUND OF ANY AMOUNT. The awarding body for the MBA/MA course will be one of LSBF's/InterActive partner universities; however, awarding bodies are subject to change from time to time. The School's obligations shall be discharged by providing tuition leading to a recognised MBA/MA award by a recognised awarding body. The School reserves the right to change the awarding body, and will notify the student as soon as reasonably practicable. In light of this, the student agrees that they shall have no claim based on changes to the awarding bodies. For the avoidance of doubt, the MBA/MA course will be delivered online.