LSBF Group appoints Prof Maurits Van Rooijen as CEO and Rector to expand innovation and academic development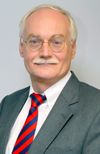 London School of Business & Finance (LSBF) Group, the holding of international schools of which FBT is part of, has appointed leading academic Professor Dr Maurits Van Rooijen as its new CEO and Rector. With a career spanning 25 years as an international educator and pioneer in the globalisation of education, Prof Van Rooijen will be joining group to expand educational innovation and academic development across all the different schools
Prior to his appointment at LSBF Group, Prof Van Rooijen was Rector Magnificus and CEO of the triple-accredited Nyenrode Business University in the Netherlands. From 1993 to 2009, he was Vice-President for International and Institutional Development at the University of Westminster. Under his leadership, the institution twice received the Queen's Awards; in 2000, for achievements in international education, and in 2005, for innovative ventures such as the opening of the Westminster International University Tashkent, in Uzbekistan. Prof Van Rooijen also initiated Britain's largest international scholarship programme, for which the University won the Times Higher Education inaugural award.
Commenting on his appointment, Prof Van Rooijen said: "Over the last nine years, the LSBF Group has achieved a very impressive level of academic and international development. The LSBF Group is now a mature institution and it is one of my goals to strengthen the school's position in the global higher education market as well as our collaboration with other top institutions."
With a track record in delivering innovation and internationalisation at top universities in the UK and Europe, Prof Van Rooijen believes that by working in partnership with universities, employers and other key players in the knowledge economy, LSBF can play a pivotal role in the globalisation of the sector and expanding access to education worldwide.
Having led the entrepreneurial and academic sides of research-intensive and teaching-focused universities across the globe, Prof Van Rooijen said: "With a fast-paced market, Higher Education institutions need to be open to innovation in order to respond quickly to the changing circumstances of the sector. I believe in a convergence of public and private providers over the next years. This convergence can drive, in a sustainable way, the globalisation of higher education and the shaping of responsible global citizens."
LSBF founder Aaron Etingen, who will be undertaking the strategic development and expansion of the LSBF Group as Executive Chairman, said: "At LSBF, we believe in globalisation and increasing the access to top-quality education. We're confident that Prof Van Rooijen will help to boost and diversify the school's development, the student experience as well as our collaboration with our academic partners."